ProFPS Precision Rings for PS4/PS5 - Mixed Set - 6 Pieces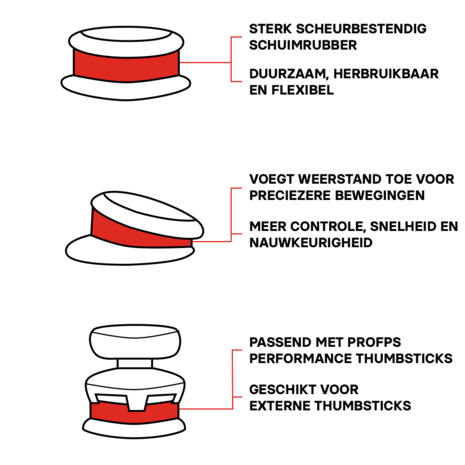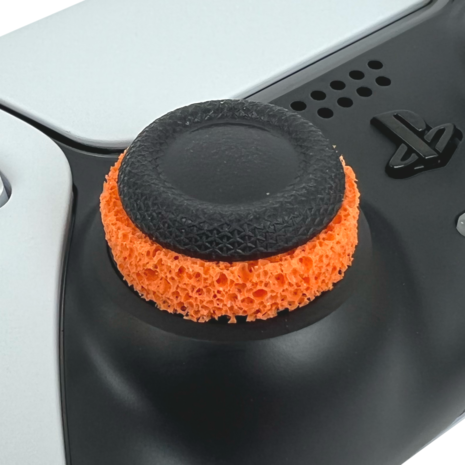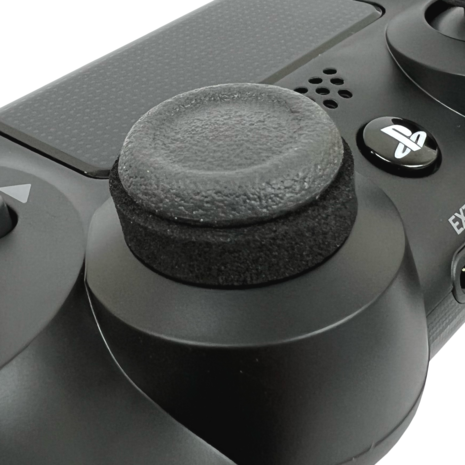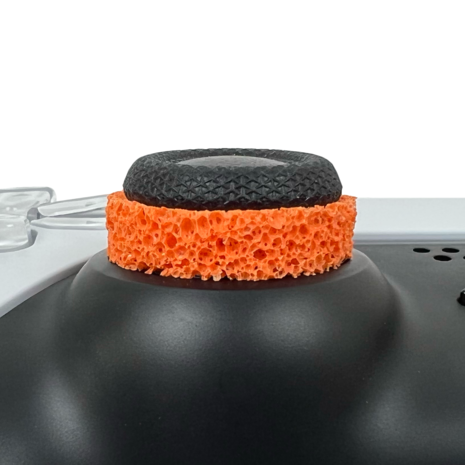 Product description
Get more control, more speed and higher accuracy while gaming with the special ProFPS precision rings. With 6 pieces and 3 different types of hardness, you choose what feels best and with which you can improve your gaming performance. There are 2 rings with a soft hardness, 2 rings with a medium hardness and 2 rings with a high hardness. With the right precision rings you have more control and more accuracy while playing, even when you play with a high sensitivity.
Advantages ProFPS precision rings
Suitable for PS4, PS5 and Xbox controllers
6 pieces
Improve your gaming performance
Adds resistance
Soft, medium and hard
More control, speed and accuracy
More precise movements
Aim assistant
Durable and with a long service life
Reusable and flexible
Strong tear-resistant foam rubber
Moisture-wicking materials
Approved for eSports
Also suitable for external thumbsticks
Improving your gaming experience
With the ProFPS precision rings you are provided with more control, more speed and your game and a higher accuracy. With 3 different types of hardness, you can choose which rings feel the best and thus also improve your gaming performance. You can make more precise movements, better aim and move more easily, enjoy an improvement of the overall gaming experience!
Durable and tear resistant
The strong ProFPS precision rings are made of tear-resistant foam rubber, which at the same time wicks away moisture. This keeps the ring in place, it remains flexible and has a very long lifespan to be able to use again and again during your favorite game.
Suitable for every gamer
Whether you just bought your first game console or have been working with the professionals for years, the ProFPS precision rings can be used by every gamer and make every gaming session complete. Whether you want more accurate aiming during Call of Duty or Battlefield, faster shifting and better control during Fortnite, you'll notice an improvement in every game!
*Tip! For an even higher gaming performance and experience, you can also combine the ProFPS rings with the ProFPS thumbsticks!
Specifications
Brand: ProFPS
Quantity: 6
Hardness: soft/medium/hard
Orange precision ring: 5.5 mm – soft
Gray precision ring: 4.5 mm - medium
Black precision ring: 4.5 mm - hard
Certification: CE
Suitable for: Playstation 4, Playstation 5 and Xbox controllersManual: English, French, German,
Netherlands
Order the ProFPS precision rings directly and improve your gaming performance with all your favorite games!
Reviews
Posted by: Jeff on 23 September 2022

Stevig en blijft goed zitten. Zeker een aanrader om te hebben bij shooters

Posted by: Wouter on 21 September 2022

Werkt goed met high sensitivity. Handig dat je verschillende sterktes krijgt. Voor mij werkt de soft het beste

Posted by: Lars on 19 September 2022

De precision rings zijn van goede kwaliteit en zorgen voor een betere aim tijdens het spelen van shooter games.

Posted by: Johan on 18 September 2022

Top, werkt super! Goede kwaliteit

Posted by: Jessy on 31 August 2022

Betere accuracy and smeller bewegen, heel erg goed!
Create your own review