ProFPS Duo Pack for PS4/PS5 – Precision Rings - Thumbsticks Mixed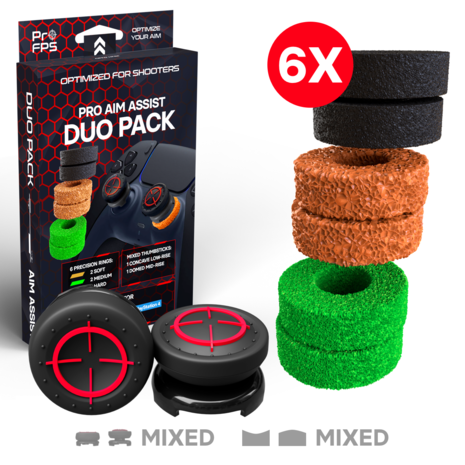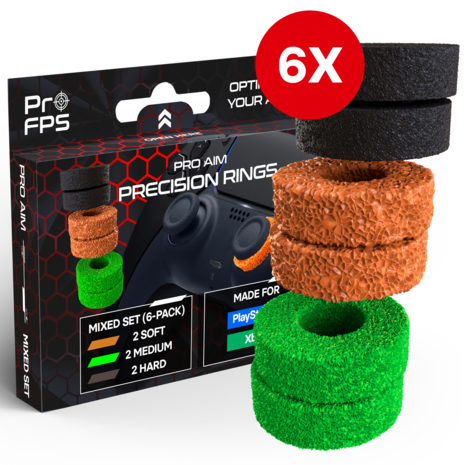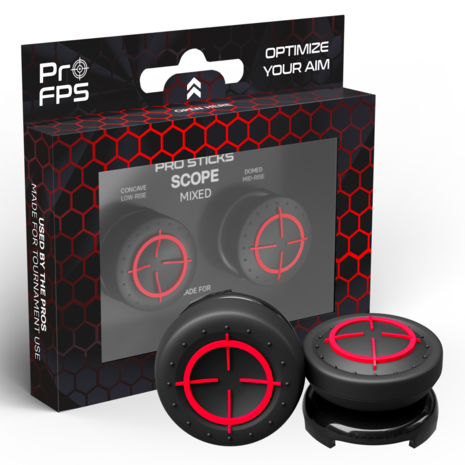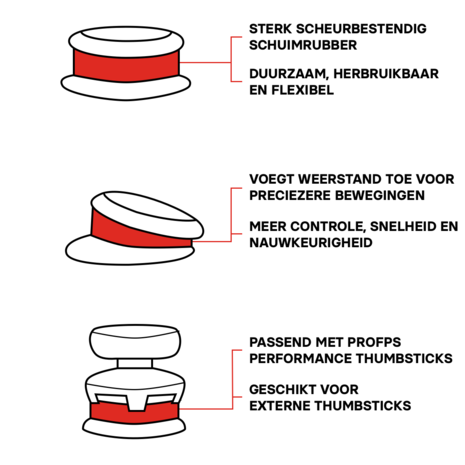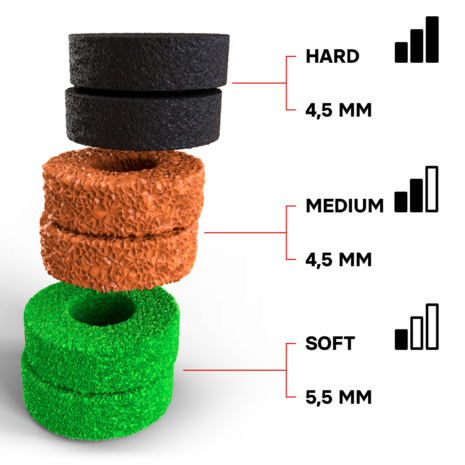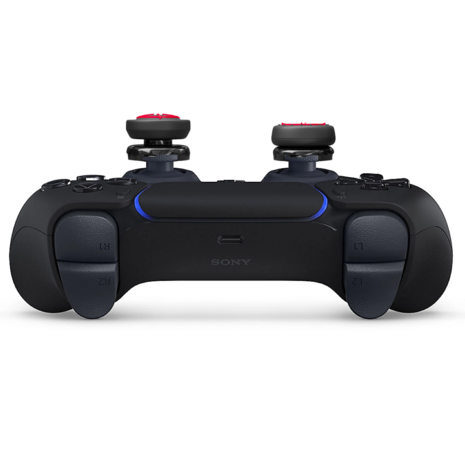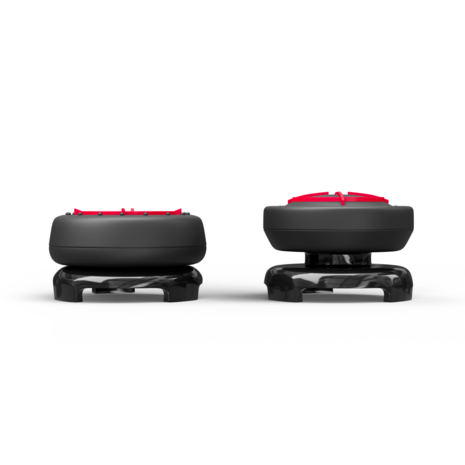 Product description
With the combination of the precision rings and the thumbsticks, you have more resistance, higher precision and accuracy and more speed in the game while gaming. The 6 precision rings come in 3 different types of hardness: soft, medium and hard. This allows you to choose which one feels most comfortable while gaming. With also 2 performance thumbsticks: concave low-rise and domed mid/high-rise thumbstick you can take your gaming level to the next level!
Benefits ProFPS game accessories
Includes precision rings and performance thumbsticks
Suitable for Playstation 4 and Playstation 5 controllers
Instantly improve your gaming performance
More resistance, speed and accuracy
Aim assistant and more precise movements
Firm and good grip
Highly tear-resistant foam precision rings
Precision rings in soft, medium and hard
Concave low-rise and domed mid/high-rise thumbstick
Moisture-wicking materials
Non-slip rubber
Approved for eSports
100% satisfaction guarantee
Improve your gaming skills
Experience the improvement of your skills for yourself by using the ProFPS precision rings and performance thumbsticks! Both game accessories can be used separately, but you can also combine them for even more comfort and dexterity. For FPS games such as Battlefield, Fortnite, Red Dead Redemption and other games, the ProFPS game accessories are an indispensable must-have for every novice and professional gamer!
ProFPS precision rings
More control, more speed and higher accuracy. This is exactly what you experience while gaming with the ProFPS precision rings. With 3 different types of hardness: soft, medium and hard, you choose which ring best suits your game at that moment. With the right precision ring, the movements are more accurate and precise, you can aim better and move more easily through the game. With the strong tear-resistant foam rubber, the precision ring stays in place and can withstand countless gaming sessions!
Performance thumbsticks
Increase control over the controller by adding more grip and accuracy while gaming. The ProFPS performance thumbsticks are specially designed to improve your dexterity, grip and precision. With a concave low-rise and domed mid/high-rise thumbstick, you have more angles to aim and move faster. In addition, the non-slip rubber material ensures that your finger cannot simply slide off the thumbstick and extra comfort is added to your fingers. With a high improvement in control, more grip and more comfort, your gaming experience will be even more exciting!
Specifications
Brand: ProFPS
Material: non-slip, rubber, foam rubber
Thumbsticks: 1 concave low-rise, 1 domed mid/high-rise thumbstick
Precision rings: 6 pieces
2x orange precision ring: 5.5 mm – soft
2x gray precision ring: 4.5 mm - medium
2x black precision ring: 4.5 mm - hard
Suitable for: Playstation 4, Playstation 5
Manual: English, French, German, Netherlands
Certification: CE
Order the ProFPS game accessory discount pack now and experience the higher game comfort and performance for yourself!
Reviews
Posted by: Ben on 8 December 2022

Erg aan te raden voor de mensen die shooters spelen! Producten vullen elkaar goed aan en zorgen voor betere prestaties.

Posted by: Pascal on 15 November 2022

Handig duo pakket, de thumbsticks en precision rings zorgen voor betere prestaties tijdens het spelen.

Posted by: Sean on 10 November 2022

Zeer aan te raden pakket voor mensen die veel shooters spelen, erg handig!

Posted by: Klaas on 31 October 2022

Mooi pakket, de producten vullen elkaar goed aan. De combinatie van deze 2 producten zorgen ervoor dat ik beter kan presteren tijdens het gamen :)

Posted by: Jeffrey on 18 October 2022

Top pakket! Door middel van de thumbsticks merk ik dat ik meer grip heb en niet meer van mijn controller afglijdt en de precision rings hebben mij geholpen bij een veel betere aim. Zeer aan te raden voor mensen die shooters sp...

Top pakket! Door middel van de thumbsticks merk ik dat ik meer grip heb en niet meer van mijn controller afglijdt en de precision rings hebben mij geholpen bij een veel betere aim. Zeer aan te raden voor mensen die shooters spelen!

Read more

Read less
Create your own review