CS Controller PS4 - Limited Edition - Purple Light Custom


Limited Editions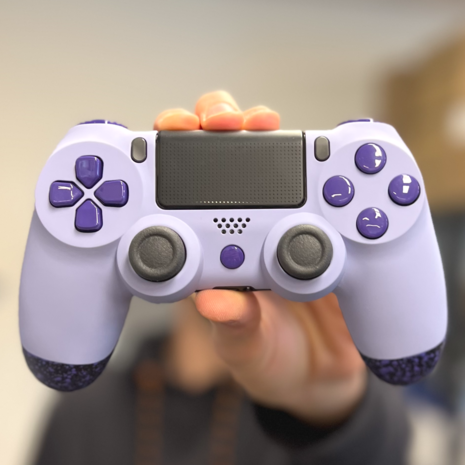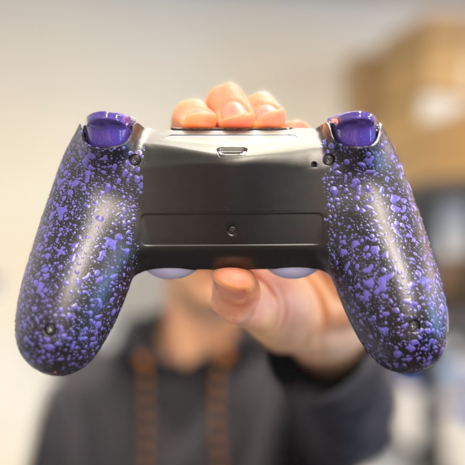 Product description
Take control of your PlayStation 4 console with this custom Sony DualShock 4 V2 controller. The controller has all the options that you are used to from a DualShock 4.
As a fanatic gamer you only want one thing: a unique gaming controller. It doesn't get much nicer than this custom controller. With our controller you get a stylish controller that your friends will envy.
We use 100% official PlayStation Wireless Dualshock 4 V2 controllers and make our own design. The housing of the original controller is replaced by us for the new design. Enjoy a unique, evolved design with iconic layout and improved joysticks.
The controller is delivered ready-to-use and ready to play at your home. Plug and play.
This controller contains the following parts:
100% Official Sony PlayStation Wireless Dualshock 4 controller V2
Custom shell
Custom buttons
Updated DualShock 4 V2 controller
You have complete control and you become unbeatable in your games with this renewed Sony DualShock 4 V2 wireless controller. Thanks to the renewed built-in touchpad that gives light in different colors, you play with even more control and an extra dimension is added to your gaming experience. In addition, the controller can now also be connected via USB, so you can easily charge the controller while you play and suffer less from input lag. In addition, the renewed DualShock 4 controller has the same options as before, such as motion sensors, built-in speaker, share button and stereo headset connection.
Connect wireless controller to PS5 and PS4 consoles
To connect your wireless controller to your PS5 or PS4 console, connect the controller via USB. After the controller is paired, you can use it wirelessly.
Pair with a PC or Mac
You can connect the wireless controller to a Windows PC via Bluetooth or via a compatible micro USB cable. Bluetooth compatibility depends on your computer's hardware. Apple computers with MacOS Catalina or later support a Bluetooth connection with the DUALSHOCK 4 wireless controller.
You can use your wireless controller to play games streamed from your PS4 using the Remote Play app on your PC or Mac. Your wireless controller can also be used with compatible games and applications on your PC or Mac.
Charging with a micro USB cable
You use a micro USB cable to charge the controller or other accessories with a micro USB connection. A micro USB connection is angular and only fits in your controller or accessory in 1 way. In addition to charging, you can also connect the controller to your computer with a micro USB cable. Connect your controller to your computer with a micro USB cable to power the controller without batteries.
Product specifications
Brand

Consoleskins

Platform

PlayStation 4

Connection type

Wireless

Controller type

Gamepad

Remappable buttons

No

Force feedback

Yes